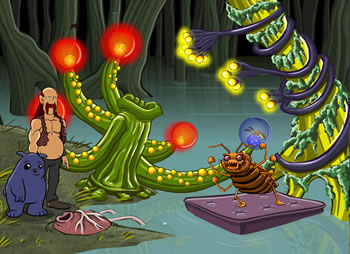 Game: The Ballads of Remus: When The Bug Bites
Platform: PC (Desura, GOG, DRM-free, Steam Greenlight)
Developer:
ClickShake Games
Game Description:
A funny and outlandish, fully voice-acted, cartoon point and click adventure game for PC.
Join Reemus the insect exterminator and his companion and minstrel Liam the purple bear on an all-new quest as they travel to exotic locations, battle giant insects and bumble their way towards writing a ballad of their adventures that will finally impress the citizens of Fredricus once and for all!
Features beautifully animated cutscenes!
Over 40 hand-drawn backgrounds to explore!
Optional side quests to discover and 36 voice acted characters to meet!