sneak peak of my first character mod. I still gta tweak her dialogue and add stats to her. I'm gna upload her fr everyone after that, but i also want to implement more things on her after everything settles down and I learn how. So i'm gna update her later on
. What do you guys think? I tried to make her look lore friendly >_< when I drew her.
Pic/screenshot: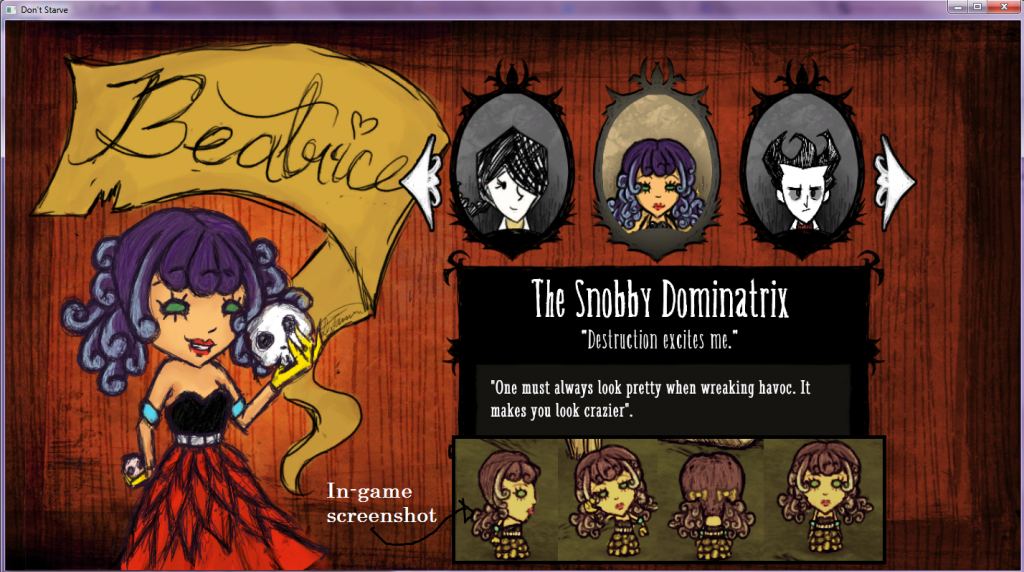 With papercut's suggestion considering she's a dom, I think giving her the ability to have the piggies as her eternal servants when she pimp slaps them is a good idea =). Gna have to turn off the pooping when you feed them though so it's fair, so you'll get a possy of pigpeople.
As for a custom weapon, I'm gna have her have a range type. She'll be throwing the skull of the people that pissed her off. I'm gna give the skulls an effect too.
I also wanna give her a companion that acts like a torch when she gets hit with darkness. It'll act like willow's fire thing. I think it's more balance if there's a time limit. What do you guys think?
Feel free to give suggestions too since this is my first mod so I'm still exploring and learning =)